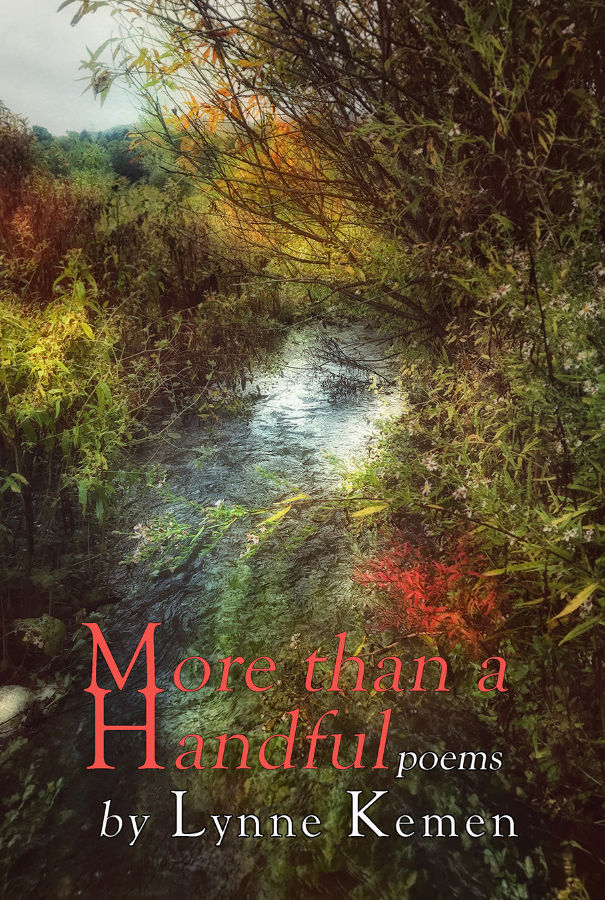 More Than a Handful is about revisiting childhood and seeing things both as a child and as an adult. It's about coming home and delighting in upstate New York. Like the homemade quilts created by the poet's long ago relatives, it will warm you.
Available from
Bright Hill Press
Green Toad Bookstore
---
Selections from More Than a Handful
And When It's Over
And when it's over
If ever
Will we have learned anything?
Or will we fly back to
Our former ways?
Perhaps we will be changed on a
Cellular level -our changed DNA
to pass to future generations?
I am now left with incredulity-
For more than 59 years, I have imagined my
End as losing my memory.
I've lived with it daily.
And now, now I think that I have
Wasted so much
Time worrying about a future that is not mine.
And when it's over, will I remember
This aha moment?
"See," my husband says,
"Such a terrible waste of time.
Come and kiss your cats"
The Best Advice
It was August of 1969
time for me to leave for my first year of college
I hugged my grandmother goodbye
looking for my exit, excited and impatient to go
Her spine was bent
her hands were red and swollen, joints distorted
she was very slow
I couldn't wait to go
Just one thing-study hard, choose your friends carefully
And don't forget — more than a handful is sinful.
What could she know about life, a woman who lived in a too-small
dying hamlet? Self-educated, Presbyterian, humble, so very uncool
And yet, fifty years later, I have never found a single case that defied her
very best advice
---
Praise for More Than a Handful
Like a spoonful of honey stirred into a cup of tea, Kemen's collection swirls the sweet and the bitter into a warming, perfectly steeped blend. Scenes of gentle contemporary domesticity-garden herbs stiff with frost, a childhood home remade with whitewash and Ikea- are shafts of light in the darker hallway of the past where long-dead relatives and forebears coalesce in Kemen's memories and musings. A rich addition to the poetry and prose of the Catskill region, More Than a Handful is-for the here and now-just right.
Linda Lowen
Essayist and Publishers Weekly Reviewer
Lynne Kemen's More Than a Handful asks unanswerable questions in language "familiar yet not familiar." She uses language as "reflections from the copper posts that are no longer there" to evoke the past that stretches to present and beyond. Her poems illuminate dark family houses, the circus, and childhood with a creek that splashes with barefoot cousins while "a huge watermelon chills with us." Her poems recall what it is to be "natural in a body that belongs."
Lisa Wujnovich
Author of Fieldwork and This Place Called Us
Kemen says so much with such ease and dexterity and careful word choice. She is precise and the imagery is just right. Through humor and attention to detail, Kemen takes readers on a journey from the innocence of childhood to being afraid of old age and losing one's memory. There is such joy in More Than a Handful that emphasizes the awe in the everyday.
Julene Waffle
Author of So I Will Remember
Lynne Kemen's poems convey an air of quiet intimacy. Her language is spare and meticulously rendered, language geared to the essentials as she takes us into her family history and the world of Upstate New York that she knows so well. Only six of the poems in More Than a Handful are haiku. Yet to me, when taken all together the entire collection has the sensibility of an extended haiku whose delicate sounds and rhythms I want to keep hearing.
David Bachner
Author of Capital Ironies
More Than a Handful is a gift wrapped in deceptively simple language, crisp observations, and dry humor. Lynne knows where the ghosts still belong, where the lost pets and dolls come alive, where childhood bullies still terrorize. He poems bring to life the ticking clocks and hand-blown glass, the smoky mirrors and ancient quilts, the natural beauty of upstate New York, the then and the now. This book is an intimate origami created with the beauty and the poetry of one good woman's soul.
Vicki Whichker
Author of Caught Before Flight